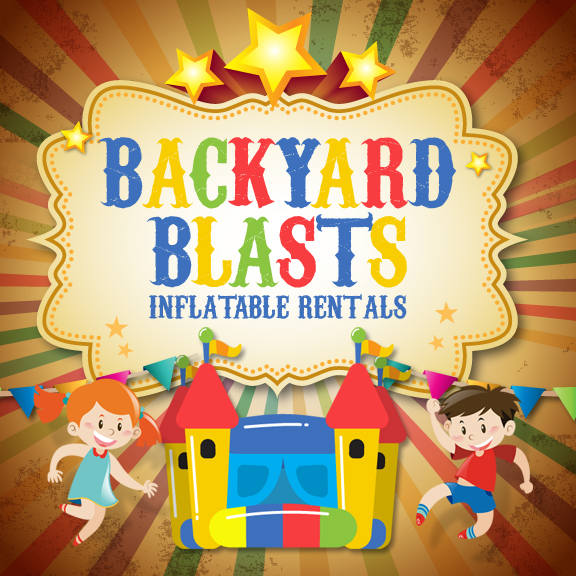 Backyard Blasts Inflatable Rentals wants to make your next gathering, event or party a backyard blast. They have all of the awesome Evansville inflatables you need to let your guests bounce to the top of the world and back during their party. Backyard Blasts Inflatable Rentals doesn't just carry party bouncer and jumping inflatable rentals, either. They have everything from cotton candy makers to generators. Want to create a back yard movie theater or karaoke party? Backyard Blasts Inflstable Rentals has a 12′ x 9′ Movies-and-Karaoke fun! Watch movies in your backyard 'drive-in' or be a karaoke star. Pick from over 700 songs. Professional sound system included.
Backyard Blasts Inflatable Rentals has a huge inventory of inflatables available for the Evansville area. From basic bounce houses to exciting inflatables like "IGOR" the BUNGEE BULL, we can make a party or event that will leave your guests wanting more! Unlike other inflatable companies, Backyard Blasts Inflatable Rentals never over books their inflatables. No child will be left without an inflatable when you book with them.
Does the spring or summer weather have your kids wanting to party indoors? We can create a backyard water park that every kid in the neighborhood wants to be in with our 20′ TSUNAMI SLIDE, SLIP 'N SLIDE or BUBBLE WASH. With Backyard Blasts Inflstable Rentals your next party will be awesome! Our inflatables go from zero to all blown up in just minutes!
Kids bored with just going to the movies, other family fun inflatable centers or kids places? Backyard Blasts Inflatable Rentals has the inflatables in Evansville to create your own family inflatable fun center that guests, kids and friends will enjoy the entire day! With such a huge inventory, full of more than just fun and exciting inflatables, we'll make any birthday party, event, after prom gathering or more an exciting time.
(812) 897-4765
511 W. New Hope Road
Boonville, Indiana 47601
www.backyardblasts.com
Like them Facebook