We are Evansville and the Tri-State area's favorite entertainment and popular culture news magazine!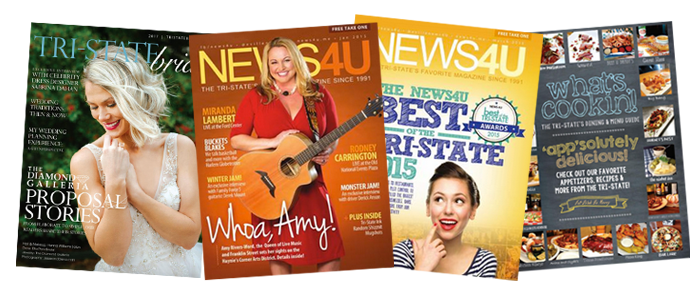 We are a free publication available at 450+ locations in Evansville, Owensboro, Henderson and Newburgh and feature a monthly calendar of area entertainment and events and a comprehensive full service restaurant guide, as well as articles and reviews featuring local and visiting talent in music, art, theater, comedy, & sports. We also feature editorial content on political, environmental and social trends. We distribute copies throughout area hotels,motels, nightclubs, restaurants, colleges, convenience stores and retail outlets by the first of every month.

---
December 2017 Tri-State News4U Issue!
---
2016-2017 Tri-State What's Cookin'
The area's most comprehensive guide to local eateries, bars and food. Enjoy our menu guide for local restaurants, secret recipes, in depth articles and more. Get your complimentary copy today at area locations across the tri-state.